The Exploitation, Processing and Use of Softstone in Northern Madagascar and its Links to the Indian Ocean World, 800–1500 CE
From the 9th to the 16th century CE, northern Madagascar was settled by the Islamised Rasikajy population who, as active participants in the Indian Ocean Trade Network, exploited the various natural resources of the island. Among the most spectacular remains of the Rasikajy are finely decorated latheturned tripod vessels made from a particular softstone called chlorite schist, which was quarried in the remote hinterland of the island. Over 30 quarries were visited in the course of this project, many of them previously unknown to science.
The survey allowed a detailed look into the applied technologies, the petrography of the material and the stylistic diversity of the vessels. The results from this study largely expand the history of softstone exploitation in Madagascar and provide new insights into the culture of the widely unknown Rasikajy and how they were influenced by the realm of the Indian Ocean World.
Details
| | |
| --- | --- |
| Autor/en | Christoph Nitsche |
| Editor: | Université de Fribourg - Departement Géosciences |
| Format: | 210 x 297 mm, ca. 258 Seiten, Softcover (book-on-demand) |
| Verlagsort | Basel | Frankfurt a. M. |
| Jahr: | 2023 |
| Sprache/n | English |
| Gewicht | 500 |
| Preis (CHF) | 75.00 CHF |
| Preis (EUR) | 75.00 EUR |
| DOI: | 10.19218/3906897851 |
Jetzt kaufen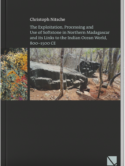 Download